Please read here a selection of my activities in the media, symposia and training sessions. Some sections are in Dutch because these refer to appearances in Dutch media.
March 2020
Train the trainer certification training in Helsinki. Just back in time for the Corona lock-down.
November 2019
The Hofstede conference in Luxembourg. An inspiring get together with interculturar experts from all over the world.
October 2019
Trai
ning a group of international faculty member of Durham College. The dual purpose of the three day training in Ontario was to create an in-depth understanding of the dynamics of cross-cultural educational well as the dissemination of the 6D Hofstede Model.
September 2019
Always a treat to be training new Hofstede Insights trainers. This time in Helsinki. A great group of people from many parts of the world.
The clash of the philosophers. Bernard Levy versus Alexander Dugin. Individualism versus collectivism. Liberal versus illiberal. Freedom vs totalirism.
Dugin: The west doest not understand the otherness. 
May 2019
Attended a dialogue between Ai Wei Wei and Rob Riemen. The dialogue ended up being an inconvenient back and forth between a Western and Eastern mind. With the Western in search of a single truth and the Eastern sticking to many truths.
March 2019
Mastertraining at Stanton Chase in Dubai. With participants from Canada, Greece, India and Lebanon. Stanton Chase is the Leadership Partner in the Middle East, and delivers Executive Search, Leadership Assessment, Leadership Transition Solutions and Executive Coaching across the Middle East and North Africa region.  The firms industry practice groups allow to identify leaders with proven multi-cultural experience and cutting-edge functional skills while leveraging the full benefit of our global network of resources. Assessment process is enhanced by the use of state-of-the-art personality evaluation tools and methodologies to appraise candidates' competencies, including the Hofstede 6D model.
January 2019
A inspiring meeting between iconic social liberal Jan Terlouw and deputy minister Stientje van Veldhoven on climate change. I was proud to facilitate and report their discussion.
December 2018
Visiting MP and political leader Rob Jetten to discuss, amongst others, migration and integration issues including the role of Connect2Us.

November 2018
A wonderful group of dedicated care professionals specializing in dementia took a workshop with me on the rise of dementia cases in migrant communities. Their main concern was how to gain trust and have the families accept outside help.
October 2018
With Connect2Us we attended the Expat Fair in Amsterdam.
September 2018
Master training in Helsinki for the Hofstede Insights network with participants from Japan, China, Dubai, the United States, The Netherlands and Germany.
June and September 2018
Provided in-house training for large Dutch multinational in agricultural sector on Eastern Europe, Asia and Leadership.
June 2018
Provided commentary on Dutch national news-radio (NOS Radio1) on the intercultural aspects of the Trump- Kim Jung-un summit in Singapore. (photo: Reuters)
Throughout 2018
A number of training sessions for EASA.
January 2018
Live webinar for CubeIn a EU program for small and medium enterprises, organized by Hofstede Insights: View the webinar here.
An inspiring conversation with Bart Somers, author 'Samen Leven' , World Mayor of 2016 and Mayor of Mechelen about live and let let live.
December 2017
The last two training days of 2018 at EASA, including a come-back session with senior management.
November 2017

Homecoming in Drachten, Friesland, The Netherlands. The city where I returned as expat child now the venue for a training for a large electronics company, Philips.
Oktober 2017
Intercultural Awareness training for managers at EU Agency EASA. How are corporate values interpreted in different cultures? Does 'respect' mean the same from one culture to the other?
Open training Intercultural Awareness in Amsterdam. Participants form Slovakia, Germany and the Netherlands. In presence of my colleague
Sumiko Shimo from Japan.
September 2017
Bart Somers, Burgermeester van Mechelen in een gloedvol tweegesprek met Gert Jan Hofstede over zijn stad en zijn diversiteitsbeleid. Ik ben trotse ontvanger van zijn boek 'Samen leven' terwijl Bart Somers mijn boek 'Do we have a Deal?' aangeboden kreeg. .
Twee break-out sessies bij de conferentie van Hofstede-Insights: Software of the Mind 2.0 in Amsterdam.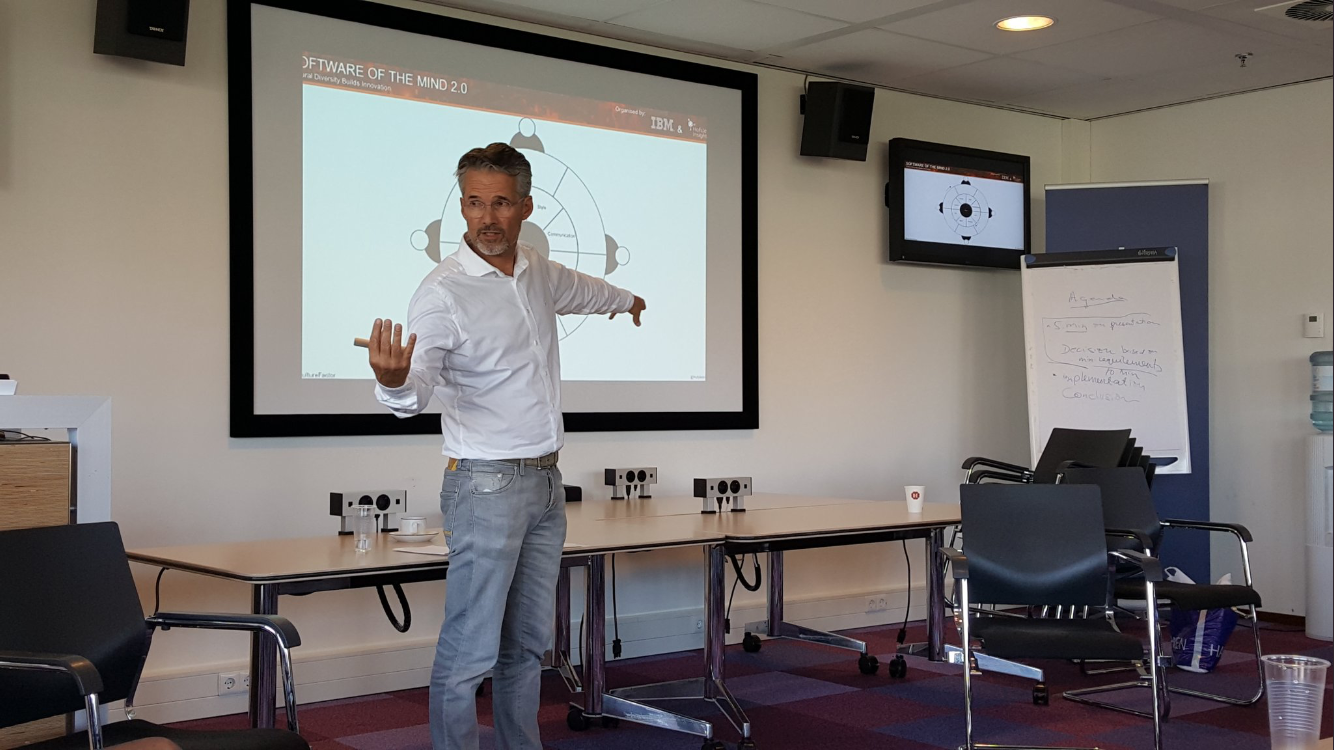 Trainingen bij ondermeer de Europese Unie en een groot beursgenoteerd IT bedrijf. 15 Nederlandse managers kwamen bijeen om in hun eigen culturele spiegel te kijken. Het bedrijf heeft een sterk groeiend aantal werknemers uit het buitenland. Die zijn vaak meer hiërarchisch ingesteld dan Nederlanders. Zij willen een baas, geen
coach. En wat is mañana nu eigenlijk?
Juli 2017
Do we have a deal? bij Managementboek.nl genoemd als 'één van de belangrijkste managementboeken van dit moment.'
Juni 2017
Alweer een intensieve training bij de EASA. Het was een gemêleerde groep. Opvallend was hun vraag naar de identiteit van hun kinderen die als expat kinderen opgroeien in Duitsland maar ouders hebben van een andere afkomst.
Op 20 juni werd bekend dat er twee bekende Nederlandse journalisten in Colombia. Lees meer…..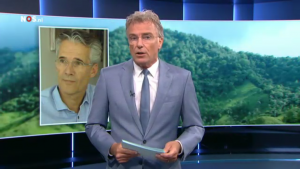 Dag 92 van de formatie alweer. Als wij in Nederland onderhandelen over een paard krijgen we een kameel. In andere landen krijgt de een paard en de zit opgescheept met een ezel. Bij ons zoeken we naar consensus. We zijn een consensus democratie. Om tot een akkoord te komen moeten we over alles praten, polderen. We moeten alleen oppassen dat de kameel geen monster wordt. Luister hier naar en kort interview bij de NOS over de formatie.
Kick-off Key note spreker op landelijk Kamer van Koophandel Event in utrecht : Road2The World
Mei 2017
Macron nam Trump's hand en hield hem lang stevig vast, tot ongenoegen van Trump. Tot hier en niet verder leek Macron Trump te laten weten. Luister hier naar een kort interview bij de NOS over de gebeurtenissen rond de G7 top.
Er komen steeds meer lezersreacties binnen op Do we have a deal?  Vijf sterren en aanbevelingen zoals: 'Een absolute aanrader, het boek is volledig en zeer leesbaar geschreven vanuit Nederlands perspectief. Dat is de kracht van deze titel. ', 'Dit boek kan de beste deal van uw carrière zijn', 'Een must-read voor iedereen die internationaal zaken doet.'
Twee trainingen bij de EASA in Keulen. Een dag met inkomend talent. Jong en internationaal. En een dag met ervaren managers. Centraal stonden de waarden die de EASA en de EU hanteert in hun organisaties.
Taalcafé in Waalwijk waar vrijwilligers gesprekken aangaan met statushouders die graag beter Nederlands willen leren. Met hen deel ik ons werk van Connect2us en krijg ik input om Connect2us nog effectiever te maken.
Training in München bij een groot international bedrij (omzet 6 miljard euro). Global Procurement directors en managers komen bij elkaar om zich te bekwamen in een effectiever omgang met mensen uit andere culturen. 35 deelnemers, 14 nationaliteiten.
Gesprek met campagne leider en prominent D66 kamerlid Sjoerd Sjoerdsma over integratie, cultuurverschillen, mensenrechten en vele andere onderwerpen.
April 2017
 Te gast bij Nieuws & Co, Lara Rense over Het Turkije Referendum (volg de link om te luisteren)
Interview op managementboek.nl dé boekensite voor professionals.
March 2017
Op de radio bij Tijd voor Max. Een uur praten over mijn boek, cultuur, het nieuws en muziek (Santana!): Luister hier (introductie). Tweede fragment (wat is cultuur).derde fragment (voorbeelden). vierde fragment (Colombia, Meisje van Tota).
Economist Professor Arnoud Boot provides feedback on Do we have a deal?: 'An easy-to-read and valuable guide to help the Dutch prepare and conduct intercultural negotiations'.
Guest at Nieuws en Co with Lara Rense on national radio news program  Listen in Dutch: Fragment210317Brexit )
Open itim course with a culturally diverse group on March 10 and boardroom training for fast-growing internet company on March 13.
Presentation of Connect2us in the Hague
The release of my book! First copy received by Geert Hofstede.
February 2017
Successful training of  the Polish staff of a subsidiary of a Dutch multinational in Poland. The group discussed the impact of culture on communication and leadership. I presented an overview the different culture profiles with a focus on those of the Polish and Dutch.
January 2017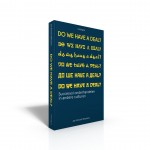 Final notes of my Dutch language book submitted to Haystack publishers. the book will be released on March 2nd, with a first copy for Prof. Geert Hofstede.
October 2016
Training for EU officials from ten different countries on understanding the dynamics of culture in work relationships, internally and externally, as well as in private lives. The simulation game highlighted the challenges of reaching an agreement in a high context environment. For many an eye-opening experience.
Training at Language Institute for the Spanish section. Training completed in Spanish. Interesting discussions on the culture differences between the Netherlands, Spain, Portugal and Latin American countries.
September 2016
The initiative for Connect2Us is gaining momentum. Fantastic support of other volunteers and enthusiastic reactions on the stories of the Yousefs. See the promotional video here.
July 2016
Training a multinational group of EU aviation safety experts in Cologne in cultural awareness. "The trainer has a very unique background for this training. Provides good presentations and is very competent and knowledgeable." What a great encouragement to continue my work.
May 2016
With itim colleagues from all over the world in Tokyo to attend The Culture Factor Conference in Japan.
March 2016
It is not a Contest. Column in the April issue of the Xpat Journal. http://www.xpat.nl/magazine/not-a-contest/
Another fine executive group for the Executive Program Sales Management at Nyenrode Business University. What is the influence of culture on Sales?
February 2016
A working session with Professor Geert Hofstede discussing the latest insights in intercultural management. Diverse group of professionals from the UK, Brazil. Japan, the Netherlands, and Germany.
Samen met Prof Geert Hofstede en de 'practicioners' groep in Nederland nieuwe inzichten over intercultureel management bespreken. Hofstede, inmiddels 87 jaar, nog altijd met de zelfde passie en deskundigheid.
itim international seminar in Leiden, the Netherlands, discussing cultural relativity and its consequences. High level panelists and an audience of more than one hundred executives from the private and public sector.
Working with more than 50 MBA students representing 16 nationalities at Nyenrode Business University on the culture factor in leadership. The students completed the culture compass and compared their cultural profile with those of their peers. We saw how values are implicit: they belong to the invisible software of our minds. Our own culture is like the air we breathe. In the short time we had I have tried to show you how the Hofstede 5D model can give some guidance in understanding the Other, and ourselves.
January 2016
The culture compass being made available to newcomers in Europe. A small contribution to creating a better understanding between cultures.
Oktober 2015
At the world's Northernmost University in Tromsø, Norway, we discussed the vital role that culture plays in the motivation and success of talents. Leading experts from both academia and business, discussed practical strategies to utilise cultural competence and turn cultural diversity into a strategic advantage. We also celebrated itim international's 30th anniversary.
September 2015
Artikel in The Xpat Journal: Going Home. Volledig artikel is hier te lezen.
September 2015
Een dag met corporate travel managers (Cortas) op landgoed Groendael. Veel ervaring, veel uitwisseling en veel eyeopeners. Fantastisch om dat te mogen faciliteren.
Juni 2015
Weer een mooie module voor het Nyenrode Executive Programme Sales Management gedraaid. Fantastische deelnemers in een inspirerende omgeving. Goede uitwisseling over de invloed van cultuurverschillen op sales. Begin december weer een nieuwe groep.
Mei 2015
Laatste sessie van acht met MBA kandidaten op Nyenrode. We bespraken in de afgelopen maanden dromen, het hoger doel, het bereikbare doel, kernkwalitieitne en kernwaarden. Deze talentvolle studenten krijgen in september hun titel en staan klaar om hun dromen en talenten met de wereld te delen.
April 2015
Presentatie over cultuurverschillen in het onderwijs op de Departure Event van Fontys Hogescholen. Studenten gaan een jaar naar het buitenland en worden voorgelicht over allerlei praktische zaken. See video: JanitimOnCultureValues
Een dag ingevuld voor het Leadership Programma van de NHTV. Goede groep jonge managers uit de reisbranche.
Samen met collega's van itim international het thema trainingen uitdiepen op het prachtige Nyenrode.
Een presentatie over cultuurverschillen en sales voor een grote telecom provider. Deze organiseerde een strategy event voor de global sales account managers van de Benelux.
Waar ga ik heen? Wat is mijn hoger doel? Coachen van internationale MBA studenten op de campus van Nyenrode.
Maart 2015
Gastcollege op de Rotterdam Business School voor de IBL groep. Studenten maken een businessplan voor een bedrijf dat plannen heeft om te exporteren naar Latijns Amerika. Ondermeer besproken dat de Latijns Amerikaanse culturen vallen in het cultuurcluster Piramide, waarin hiërarchie, collectiviteit, prestatiegerichtheid en korte termijn gerichtheid een rol spelen.
Maart 2015
Weer twee dagen op Nyenrode Business University voor het Executive Programma Sales Management. Het thema interculturele sales werd goed gewaardeerd.
December 2014
Artikel in Rabobank Magazine
Geslaagde workshop bij de Stichting Brandweer zonder Grenzen. Vrijwilligers leerden de verschillende culturele dimensies herkennen en toepassen.
November 2014
Begonnen met een nieuw seizoen van het Peer Group Coaching Programma op Nyenrode. Leuke groep MBA studenten om te begeleiden uit India, Turkije, Brazilië en China.
Juni 2014
Een mooie dynamische groep sales executives voor de vijfde editie van het Executive Programme Sales Management. Tijdens het WK. Een mooi intercultureel thema op de achtergrond.